Non-slip knurled chrome grab bar surface and rotating flanges for easier installation.
Knurled Chrome Grab Bars with Rotating Flange by AquaSense® are perfect where extra support is required in the bathroom. They help prevent bathroom accidents such as slipping, sliding or falling.
This knurled chrome grab rail has rotating flanges for easy installation on the side of the bathtub wall, the shower wall or around the toilet and sink area walls. The rotating flanges of the grab bar facilitate the installation; the grab bar can be mounted vertically, horizontally or diagonally.
AquaSense® Grab Bars are rust resistant and come complete with instructions and stainless steel hardware.
Clearance from wall: 2 1/2 in (6.3 cm)
Easy-to-install rotating flanges
Knurled grip for added security
Rust-resistant chrome finish
Stainless steel hardware included
Available in lengths of 12″, 16″, 18″, 24″, or 32″
Angled Grab Bars
18 gauge 304 high quality stainless steel
Flangers are heavy duty 14 gauge, 3″ round stainless steel (wingits compatible)
Concealed flange covers provide a clean finished look hiding the mounting screws
1.5″ wall clearance meeting ADA, ANSI, & most local building codes (always check with your local building department should you be designing to code)
Wingits and toggles available in the hardware section for hollow wall applications
Designed and tested to 400lbs.
Grab Bars are only as safe as the installation, if you are unsure, it is imperative that you contact us
Many sizes and angles available. Please call today (250) 828-6682
Suction Grab Bars
Suction grab bars are designed to provide a handhold for balance when showering and can be mounted on a wall in various positions and angles to best suit the needs of the user. Our grab bars come with suction indicators for optimal security and piece of mind.
Bath Tub Rail
Bath tub safety bars are designed only for bath tubs, the 16″ clamp-on tub bar clamps to the side of the bath tub and provides a secure handhold at two different heights for people stepping into, or out of their bathtub.
The plastic construction makes this tub bar easy to clean and non-corroding.
Dimensions and Specs:
• Weight capacity: 300 lbs
• Color: White
• Width adjusts from: 2 3/4" to 6 1/2"
Steel Bath Tub Rail
Bath tub safety bars are designed only for bath tubs, the clamp-on tub bar clamps to the side of the bath tub and provides a secure handhold for people stepping into, or out of their bathtub.
Installation is achieved by tightening the bar clamp onto the side of the bath tub. No tools are required and no damage is done to the bathtub.
Features:
• White powder-coated steel construction provides an easy-to-clean surface
• Fits most tubs (not for use with fiberglass tubs)
• Tool-free installation
Bath Seating
Bath Chair with Back
The EZee Life™ tool free bath seats have thumb screws to hold them together in place of the regular machine screws. These thumb screws allow the bath seat to be assembled and disassembled without using tools making the 1060TF bath seat easy to transport and store away.
Features:
• Tool free assembly
• Easy snap together assembly back, seat and legs
• Blow molded bench and back provides comfort and strength
• Stainless steel hardware and brass inserts
• Drainage holes in seat and back reduce slipping
• Aluminum frame is lightweight, durable and corrosion proof
• Angled legs with suction style tips provide additional stability
Basic Round Stool
Sturdy 1" diameter anodized, extruded aluminum construction ensures maximum strength while remaining light weight
Impact resistant, composite seat is crack-proof and tarnish resistant
Dimensions and Specs:
• Weight capacity: 300 lbs
• Color: White
• Construction: Aluminum Frame
• Seat height from: 14" – 20"
• Seat width: 12.5"
• Width of legs: 13.5″
Bath Chair with Back and Arms
The CH1062 EZee Life™ bath seat with arms is shipped fully assembled and constructed of aluminum tubing with a blow moulded plastic seat and backrest.
Replaceable rubber tips are fixed to the bottom of the adjustable height legs to prevent slipping. The backrest and arms are removable by pushing two pushpins and sliding the backrest supports out of their mounting brackets.
Care Bath Chair
The Universal Bath Seat with Back fits into virtually every tub or shower – whether at home or away. It features an innovative design to comfortably support up to 400 lbs. It has a patented Exact Level height adjustment. There are drainage holes in the seat to eliminate water pooling and a convenient notch for holding a hand-held shower spray. This bench is easy to assemble without the need for tools.
Patented Exact Level height adjustment
Convenient notch to hold hand-held shower spray
Drainage holes to prevent water pooling
Extra-large seating area supports up to 400 lbs.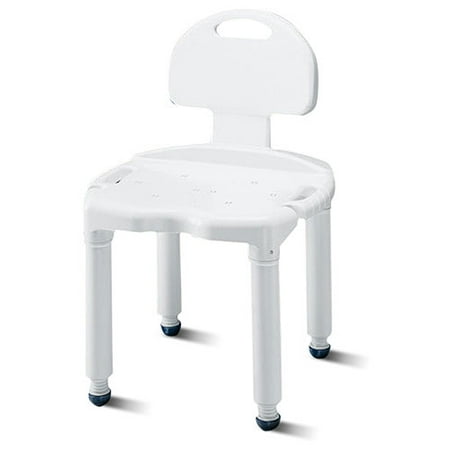 Padded Transfer Bench
Padded Bath Transfer Bench is adjustable in height provides a stable seat for bathing or showering. The non-rusting aluminum frame can be easily reversed for use in either right or left hand bathtubs.
Features:
• Comfortable cushioned seat and backrest
• 1" Aluminum frame is a lightweight, sturdy and corrosion resistant
• Height adjusts in 1" increments
• Back reverses without tools
• 3 Position back depth is adjustable from 18"-19" in 1/2" increments
• Extra large suction cups provided added safety
Other models available
Plastic Transfer Bench
Product Summary
Tool-free assembly of back, legs and arm

(Figure A – C)

A-frame construction provides stability
Durable blow-molded plastic bench and backrest
Height adjusts in ½" increments with unique "Dual Column" extension legs
Reversible to accommodate any bathroom
Pinch-free lever allows for push pins to be depressed without pinching fingers
Toilet Safety
Toilet Safety Frames
Versa Toilet Safety Frame
Toilet Safety Frames, also known as versa frames, provide sturdy armrests for a toilet that can be used for stability and balance control for users. They can easily be removed when not needed and are height adjustable.
Features:
• Anodized aluminum is sturdy and lightweight
• Waterfall armrests provide additional comfort and support
• Powder coated aluminum bracket easily attaches frame to toilet
• Arm height and width are adjustable
Carex Toilet Safety Frame
The rail attaches directly to the toilet, is adjustable from 16 to 18 inches to fit most toilets, and is compact for easy storage or travel.The Toilet Support Rail allows users to safely sit or stand at the toilet.  This rail features Hypalon cushioned hand grips which are comfortable and easy to clean.
Raised Toilet Seats
Lock On Seat With Lid
This 4″ raised toilet seat is made of durable easy to clean lightweight plastic and features a dual locking mechanism for security.
Most raised toilet seats prevent the use of a toilet seat lid but this design has its own lid that can be closed when needed.
Dimensions and Specs:
• Weight capacity: 300 lbs
• Color: White
• Seat Height: 4"
• Seat Width: 15"
• Seat Depth: 15"
• Weight: 2.4 Lbs
More Sizes Available
Raised Toilet Seat With Arms
This 4″ raised toilet seat with arms is made of durable easy to clean lightweight plastic and features a single front mounted thumb screw locking mechanism for security.
Features:
• Padded arms
• Heavy duty molded plastic construction provides additional strength and durability
• Gently contoured surface for added comfort
• Stain and odour resistant
• Clamping mechanism ensures secure locking onto toilet
• Prevents shifting of seat while transferring
Elongated Raised Toilet Seat
Designed for individuals who have difficulty sitting down or standing up from an elongated toilet so they can easily get on and off the toilet more easily
This AquaSense® Elongated Raised toilet seat with lid makes it easier to get on and off the toilet by putting the toilet seat 4" higher.
Ideal for anyone with mobility issues, this toilet seat is easy to clean and features quick and easy tool-free installation.
Fits the majority of elongated toilets
With lid for more discretion
Raises the toilet 4″ higher than a regular toilet seat
Easy-to-clean surface
Attaches securely to most toilets
Contoured ergonomic seat
Sturdy blow molded plastic
Adjustable secure grip
Easy tool-free installation
Contoured yet sturdy design
300 lbs (136 kg) weight capacity
Toilevator
Product Summary
A safe alternative to the raised toilet seat
The molded plastic toilevator elevates the toilet in a non-obstrusive, aesthetically pleasing manner, which can be comfortably used by the whole family The toilevator will add 3.5″ (9 cm) of additional height to any standard 14″ (36 cm) to 15″ (38 cm) toilet
This easy-to-install, universally designed modification kit will fit a round or elongated bowl
The kit comes with instructions and all hardware needed for easy installation
Measures 23″L x 11.5″W x 3.5″H (58 cm x 29 cm x 8.9 cm)
Maximum weight capacity is 500 lbs
1 year warranty
Security Poles
Floor To Ceiling Poles
The Security Pole & Curve Grab Bar makes it easy to stand from a couch, bed, or toilet. It is tension mounted so it can be placed anywhere in the home – no screws or bolts required. The Curve Grab Bar has 4-Handgrips that make it easy to climb to a standing position – and because the grab bar rotates 360 degrees – you can move the grab bar out of the way when not in use. And like all our products, it blends in with your home to offer extra support without intruding on the comforting feeling of your home.
Easy-Stand Hand Grips -4 Hand-Grips make it easy to climb to a standing position
Support Handle – Offers extra support to prevent falls on wet or slippery floors.
Place Anywhere You Want – Next to a bed, couch, chair, or toilet.
Easy Installation – Installs in less than 15 minutes (Installation Video Below) – No screws or bolts required!
Adjustable – Fits 7-10ft ceilings
Blends With Your Home – Comes in both white and black (for bathroom and living room options).
Lifetime Guarantee – If you are unsatisfied for any reason – we will fix or replace your product.
Super Pole

The SuperPole System is an award winning modular support system designed for those requiring assistance with standing, transferring, or moving in bed. Central to the system is a stylish floor-to-ceiling grab bar, which provides a secure structure that can be installed in minutes between a floor and ceiling.
Maintain Confidence and Independence – Place support exactly where it's needed for valuable assistance beside a bed, bath, toilet or chair
Quick, Easy, Secure Installation – Simply turn the screw at the bottom of the pole and the pole will expand between the floor and ceiling, creating unparalleled sturdiness and reliability.
Versatile – Need to remove or relocate the pole? Not a problem! Rubber pads on the floor and ceiling plates prevent marking, even on stipple ceilings.
Stylish – Clean and modern design will suit any decor.
Add On Kits – The SuperPole also serves as a mounting support for a complete range of options that can be varied to meet changing needs: The SuperBar, SuperTrapeze, SuperTray & Safety Island.