Slow Down Brakes
Designed for users unable to use our standard hand brakes due to lack of dexterity, arthritis or that they don't have the cognizance to use the walker safely.
Cane Holder
A strong and versatile aluminum accessory designed to accommodate a cane in a variety of different positions in any Evolution walker.
Curb Climber
Curb Climbers are available for most models to help the user tilt the walker to manage curbs and steps more easily.
Oxygen Tank Holder
The Evolution Oxygen Tank Holder is designed to be securely fastened to the basket to accommodate most oxygen tanks, including some liquid oxygen containers.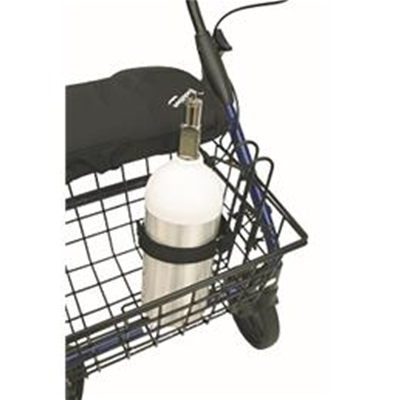 Food & Drink Tray
The tray is designed to fit on the seat of the walker allowing food and drinks to be carried safely.
One Hand Brake System
The customized One Hand Brake System is available in most models and is designed for the user to brake with one hand, either the left or right. The opposite non-brake handle has a soft foam cushion attached for ultimate comfort.
Soft Back Strap
This is an optional adjustable and comfortable flexible back pad designed to provide more back support.
Cup Holder
High quality, sturdy cup holder for your morning coffee and great for water bottles too!
Phone Holder
The phone holder for Xpresso can accommodate most phones. Two sizes are available for order: 4.7" and 5.5"
Fold-over top keeps the phone securely in the holder.
Soft interior material to protect the phone.
Attaches to walker by an universal clip (included) that can also be used for other accessories such as cup holder, cane holder, flower vase, etc.
Wire Basket
Sturdy wire basket to for when the cloth basket just won't do.