Intermittent Catheters
Intermittent Catheters are catheters that are inserted into the bladder when it is full and then removed immediately after the bladder is emptied. Intermittent catheters come in many sizes, and with several different features that are designed to suit individual needs.
Foley/Indwelling Catheters
Indwelling catheters are inserted into the bladder and then held in place with a small inflatable balloon that allows continuous drainage.
External Catheters
External Catheters resemble a condom that is worn on the shaft of the penis. The external catheter is connected to a drainage bag that can either be worn on the leg or hung bedside.
Catheter brands we carry include Bard, Rusch, UroCare, Medline, Coloplast and many more.
Drainage bags
Drainage bags are worn on the leg or hung bedside. The bag is used to collect urine that is drained from the bladder through either an external or indwelling catheter.
Portable urinals
Spill proof Urinal
Sterilizable, medical blue plastic with unique design that prevents spilling, even if tipped over. The funnel-shaped opening makes collection easy for men and women.
Female Urinal 
Contoured design for a complete and secure seal during use.
Designed to prevent accidental spills.
Easy to use in several positions.
Easy to measure – imprinted in ounces and cc's.
Absorbent Pads
Tena Day Plus Pad
Get the daytime protection you need. TENA® Day Plus Pads are designed to handle the moderate to heavy Unexpected Leak™. This 2-piece Pad & Pant system, when paired with TENA® Reusable Knit Pants, keep you or your loved one clean, dry and comfortable.
Tena Day Regular Pads
Designed for our 2-piece Pad & Pant System, TENA® Day Regular Absorbent Pads keep you or your loved one clean and dry from the Unexpected Leak™. Wear them with TENA® Reusable Knit Pants for Fearless Protection™ from everyday leaks.
Tena Night Super Pads
Designed for our 2-piece Pad & Pant system, TENA® Night Super Maximum Absorbency Pads offers overnight comfort and security for moderate to heavy leaks. Try them tonight paired with TENA knit pants and rest easy thanks to the Fearless Protection™ of TENA.
Mesh Pants
TENA Comfort Pants utilizes a clothing-like design provides comfort, dignity, and security for adult incontinence patients. The TENA Comfort Pant has a airy design that allows air to come in contact with the skin to keep your skin cooler and dry. The TENA Comfort Pant provides comfort for the wearer.
Washable and reusable, the TENA Comfort Pant can be washed up to 50+ times with normal laundering. Designed for use with TENA Pads, the Comfort Pants are a less expensive way to treat Adult Incontinence problems. Five separate size options are available from 20 to 72 Inch waist sizes.
Absorbent Underwear
Tena Super Briefs
Rest assured with TENA® Super Briefs. This superabsorbent solution provides maximum protection for the Unexpected Leak™—even overnight.
Tena Stretch Ultra Brief
Still searching for a superabsorbent solution that stays in place? Look no further. TENA® Stretch Ultra Briefs have stretchy sides and full-length fasteners. Say hello to Fearless Protection™. against moderate to heavier bladder and/or fecal incontinence.
Tena Bariatric Briefs
Get Fearless Protection™ that fits. TENA® Bariatric Briefs are specially designed for larger and taller people. Enjoy maximum comfort with a customizable fit.
Tranquility Overnights
Maximum absorbency provides extended wear time for a full night of uninterrupted sleep.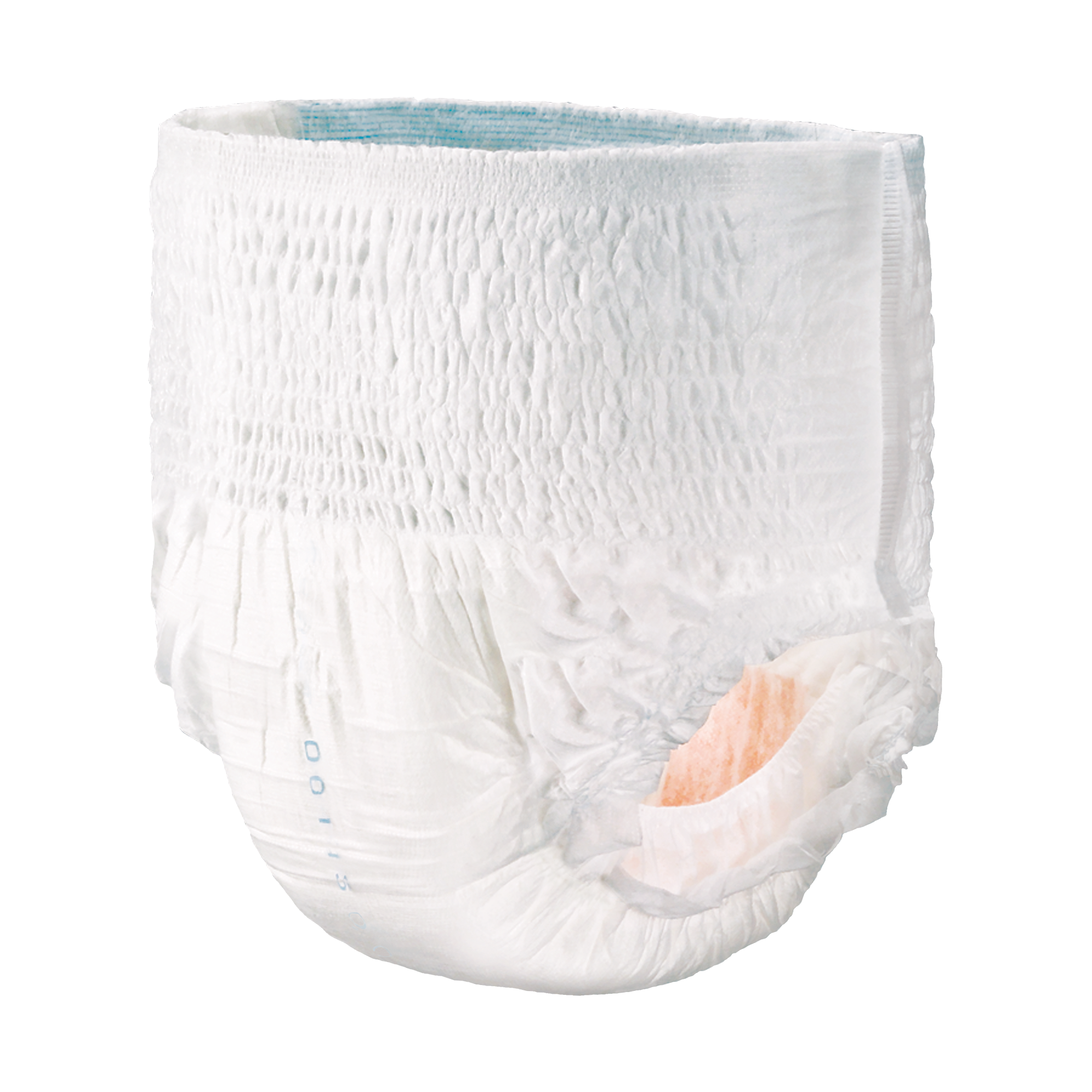 AMG Ultra Absorbent Protective Underwear
AMG's protective underwear provides men and women with discreet and comfortable bladder control protection. And, they fit and feel like regular underwear. What's more their advanced polymer absorption system rapidly pulls away wetness and locks it in helping people who need moderate to ultra protection to feel dry while controlling odours.
• Fits and feels like regular underwear.
• Soft-fit waist provides a snug, comfortable fit.
• Elastic leg gathers provide added leakage protection.
• Advanced polymer absorption system rapidly pulls away wetness and helps control odour.
• Breathable panels help keep skin dry and healthy.
• Tear-away sides allow for fast, easy removal.

Waterproof pads (multiple sizes, Re-usable and disposable)