We offer a wide variety of therapeutic aids here in our store. If there is a specific product you are looking for, we are more than happy to bring it in for you.
Hip Surgery Products
Leg lifters
Leg Lifters help post-hip surgery clients raise or lower their legs. It is ideal for hip replacement patients who have weak hip flexors.

Reachers
These high quality reachers are able to pick up a variety of objects ranging in size and weight. The full hand trigger allows for more strength to be used than a conventional finger trigger. E-Z Reachers are available in a variety of models with different features for different needs.
  
Shoe horns
A shoe horn is a tool that enables the user to insert the foot more easily into a shoe by maintaining the shoe's counter in the upright position and by providing a smooth surface on which the foot may slide into the shoe. Our shoe horns are available in many difference styles and lengths.
  
Long Handled Sponge
Take the stretch and bend out of bathing or household cleaning with this extra long handled sponge. It is also useful for cleaning the bath tub, toilet or dusting high spots. Has a vinyl hand grip to reduce slipping from wet hands. A rectangular sponge mounted on a light weight epoxy coated aluminum handle.
Rigid Sock Aid
This deluxe rigid sock aid helps put on socks, stockings and compression stockings without bending. It is made of formed polystyrene plastic that holds its shape and has soft foam grip handles with braided cords which may be cut and retied to adjust the length – makes it easy to use!
Bracing
Hand and Thumb Supports
Active CT Lacer
The Active CT Lacer is the ideal choice for most patients. It is designed to stabilize weak, unstable wrists and generate warmth to stimulate circulation. The easy-to-use Velcro closure lacing system allows for easy donning and doffing – the brace can be adjusted with one simple motion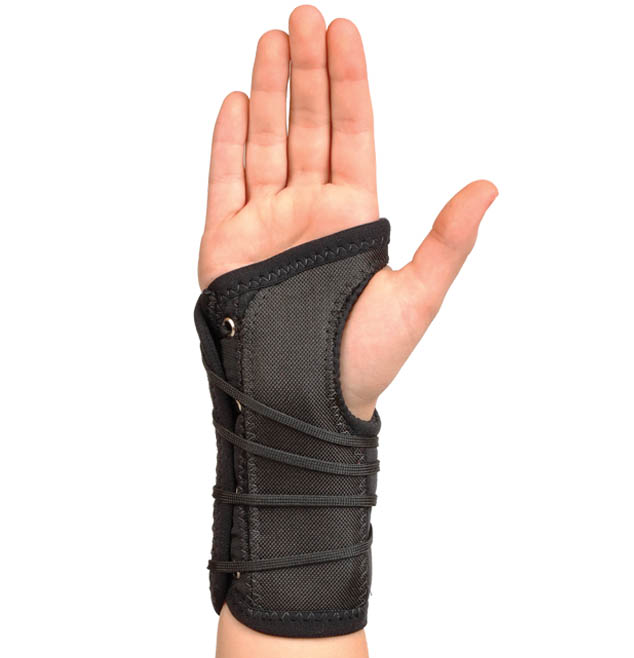 Contoured Wrist Stabilizer
This brace is designed to stabilize weak, unstable wrists and generate warmth to stimulate circulation.
Ortho Active Contour distal and palmer stays are incorporated into this brace

Stays are aluminum
Hold the wrist in a neutral, cock-up position for proper healing
Removable and adjustable, and provide a low profile, intimate, and comfortable fit

The brace material is cut proximal to the palm crease to allow full hand motion while maintaining immobilization of the wrist
Application is easy with the aid of a d-ring
Available in Neoprene or Coolprene
Indications:
Carpal tunnel syndrome, tendonitis
Post-cast
Arthritic wrist
Moderate strains or sprains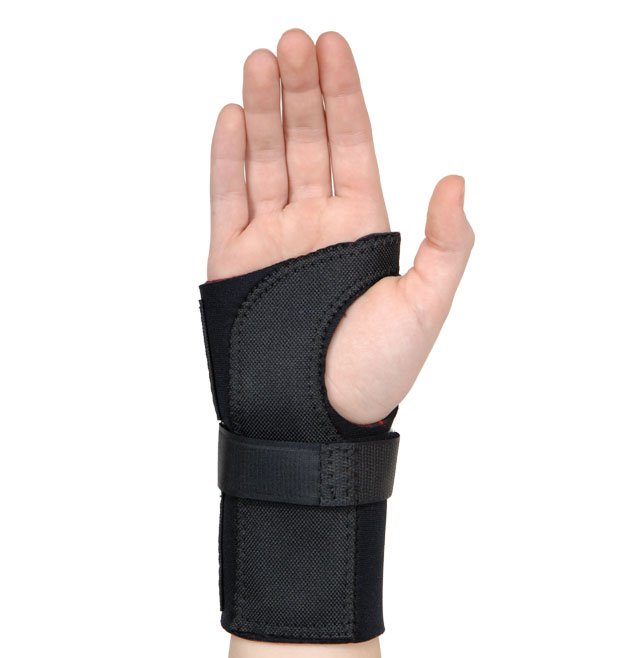 Wrist Stabilizer
Improved, industrial strength, 8" wrist stabilizer with a D-ring tension strap to stabilize weak, unstable wrists and generate warmth (Neoprene) to stimulate circulation. Two moldable, aluminum stays hold the wrist in a neutral, cock-up position for proper healing. Has an adjustable thumb hole. Comes in 8" length. Available in Neoprene or Coolprene (black or grey).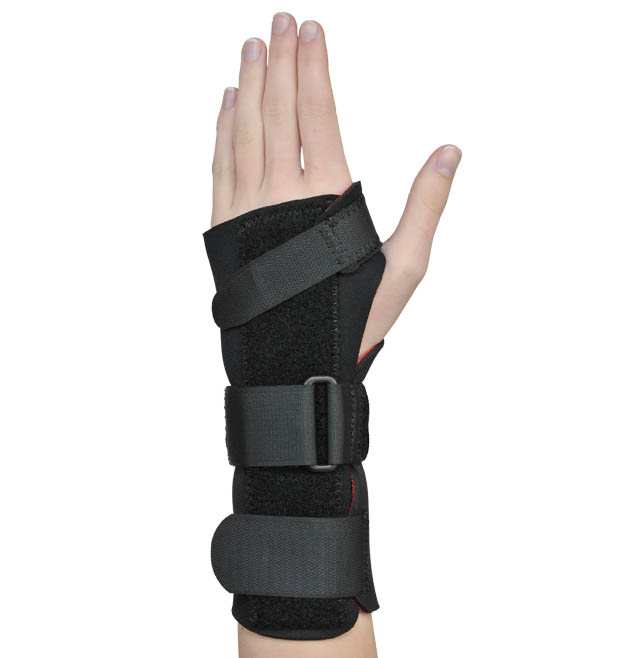 Active Thumb Lacer
This comfortable Coolcel support immobilizes the thumb with a pre-formed moldable aluminum or plastic stay.
Stabilizes the MCP, CMC and IP joint
It is easily applied using our popular lacing closure system
adjustable for each individual with a Velcro closure over the thumb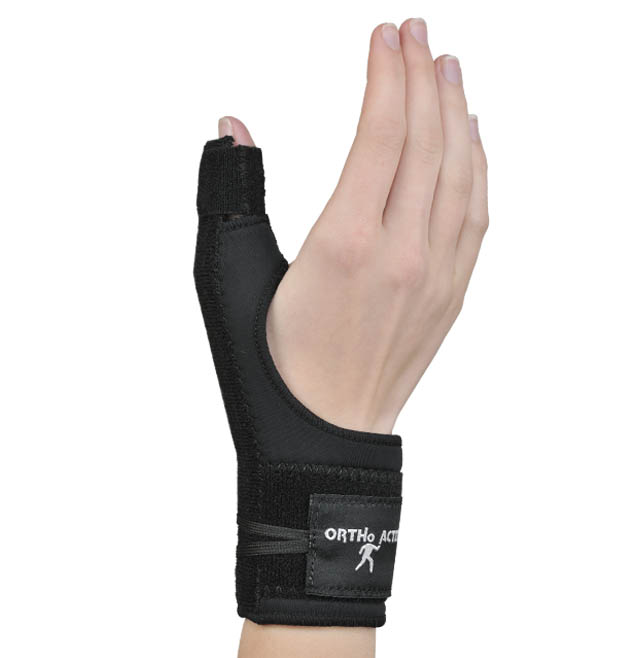 Wrist and Thumb Stabilizer
Wrist and thumb support with a Velcro thumb strap for thumb immobilization over latex free Neoprene padding. An effective, inexpensive wrist and thumb immobilizer. Glove pull-on style for easy application. Has a pre-shaped thumb stay, a pre-shaped palmar stay and a flexible dorsal stay. With an easy-to-use Velcro closure lacing system, the brace may be donned with one simple motion
Bort MCP Stabilizer
A rigid plastic orthosis for stabilizing the MCP joint while allowing full freedom of movement at the wrist in the case of strains and sprains. Lightweight and simple to mold and cut.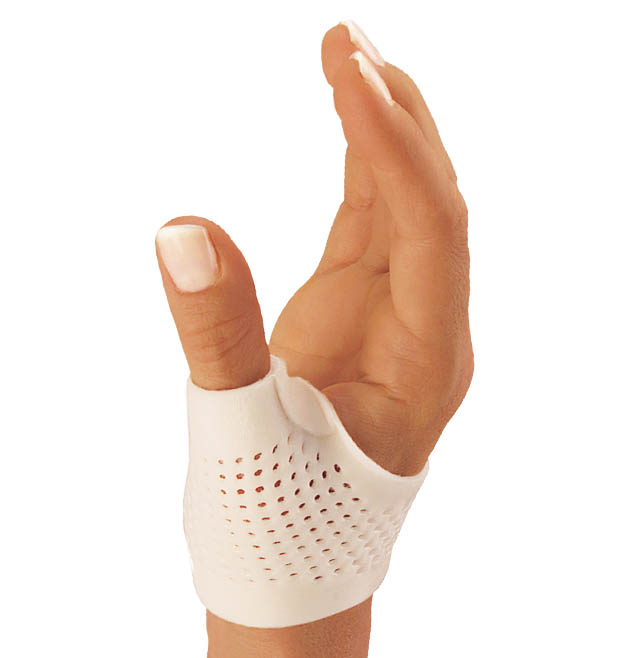 Bort CMCP Stabilizer
A rigid plastic orthosis for stabilizing the CMC joint and the MCP joint. No impairment of grip function and fine motor activity. Simple to mold and cut, lightweight
Bort CMCPIP Stabilizer
A rigid plastic orthosis for stabilizing the CMC, MCP, and inter-phalangeal joint of the thumb. Lightweight and simple to mold and cut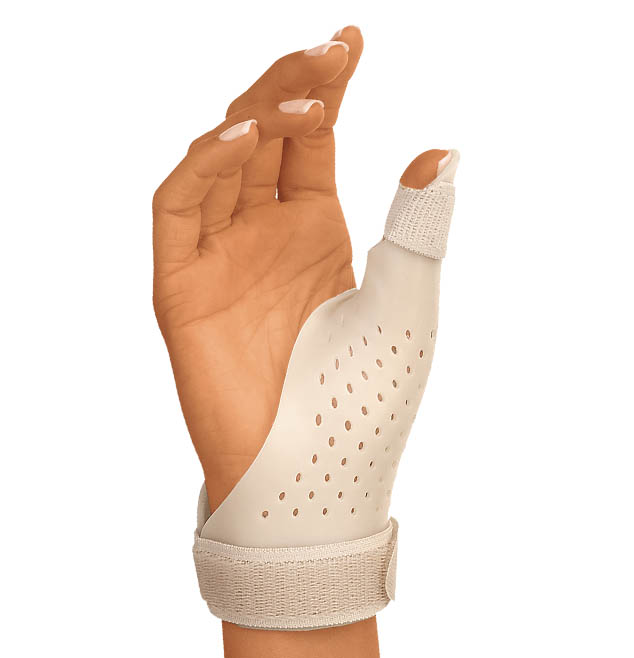 Elbow and Shoulder
Tennis Elbow Strap
This tennis elbow strap has an adjustable Velcro closure and applies pressure to the muscle of the forearm. Made with Neoprene or Coolprene and available in black or grey.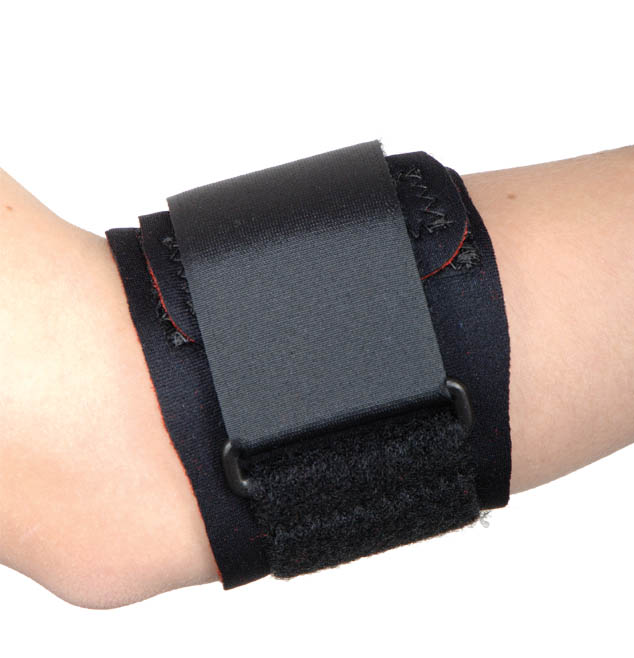 Tennis Elbow Sleeve
This elbow sleeve with optional tendon pad applies compression to the entire elbow area and local pressure to the muscle of the forearm.
Made of Coolcel, Ortho Active's breathable, latexfree Neoprene alternative that provides the ultimate in comfort and function. Ideal for sport use or patients susceptible to skin irritation from heat rash.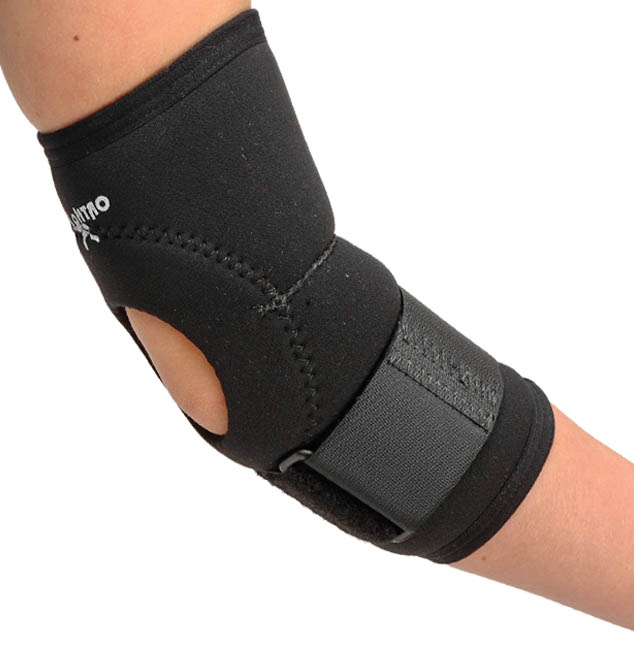 Hyper extension Elbow Sleeve
The Hyperextension Elbow Sleeve features a three point pressure system that stops the elbow from hyperextending in the brace. Length is 12", available in black or grey.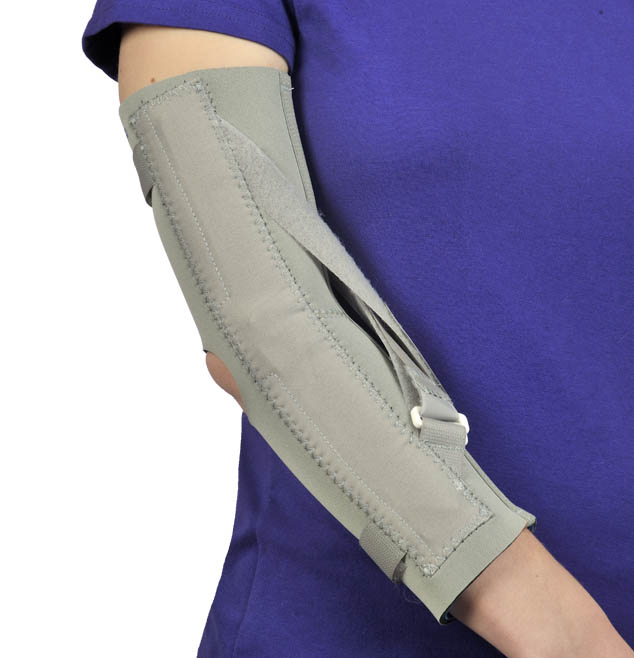 Cubital Tunnel Support
This splint immobilizes and positions the elbow to reduce pain from cubital tunnel syndrome, and minimizes stretching of the Ulnar nerve.
Made of rigid black high density polyethylene shell with a plush grey terry cloth lining
A cost effective alternative to pre or post cast application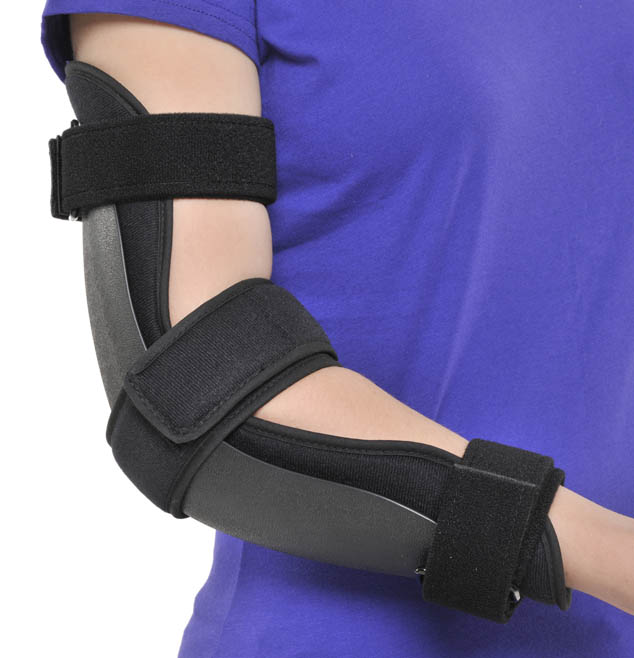 Active SA Sling
This arm/shoulder sling/immobilizer provides both maximum comfort and optimum function.
The envelope is constructed of high quality black mesh for improved air circulation
Features 2 foam straps that are easily adjustable to suit any body type
The shoulder immobilization strap is removable when only arm suspension is required
Also includes a thumb loop that provides additional support to the wrist if required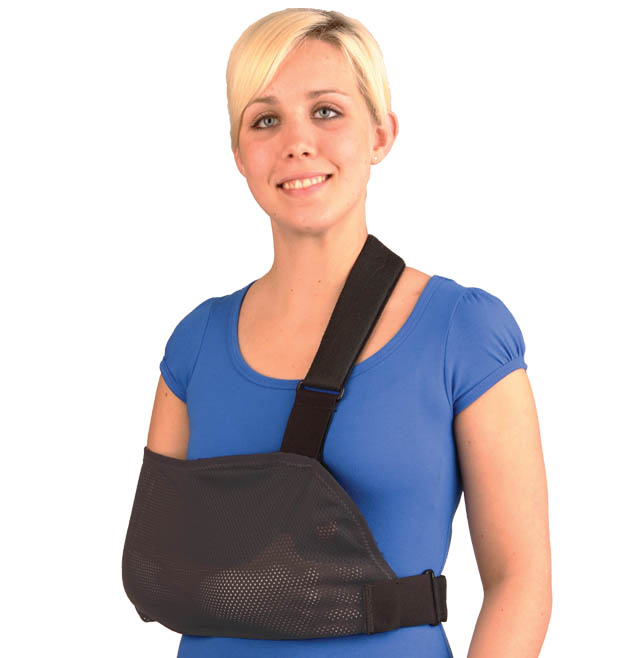 Torso
Shoulder Immobilizer
Universally adjustable shoulder immobilizer. Comes with swathe, wrist strap, and shoulder strap components. Comfortable grey foam material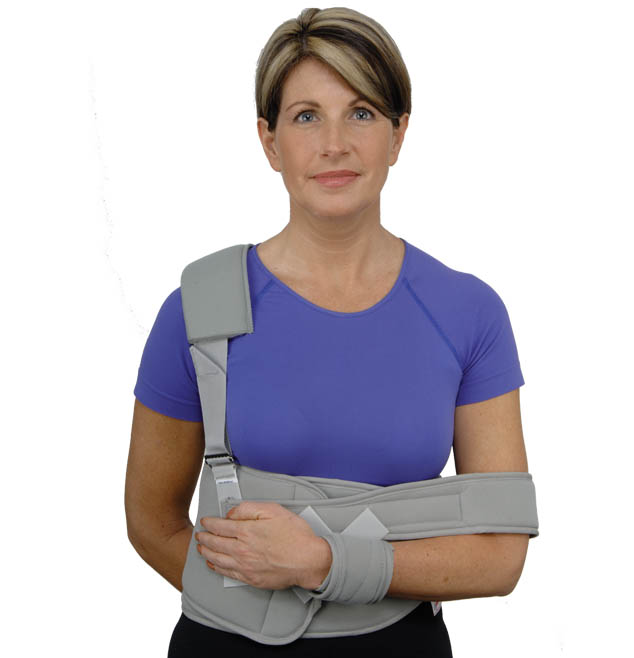 Shoulder Suspension/Rotation Support
The Ortho Active Shoulder Suspension/Rotation Support treats tendonitis and overuse injuries. Anterior and posterior strap attachments at the chest allow more influence over shoulder positioning. A sharkskin lining and adjustable opening at the bicep ensures that the brace does not migrate from the desired position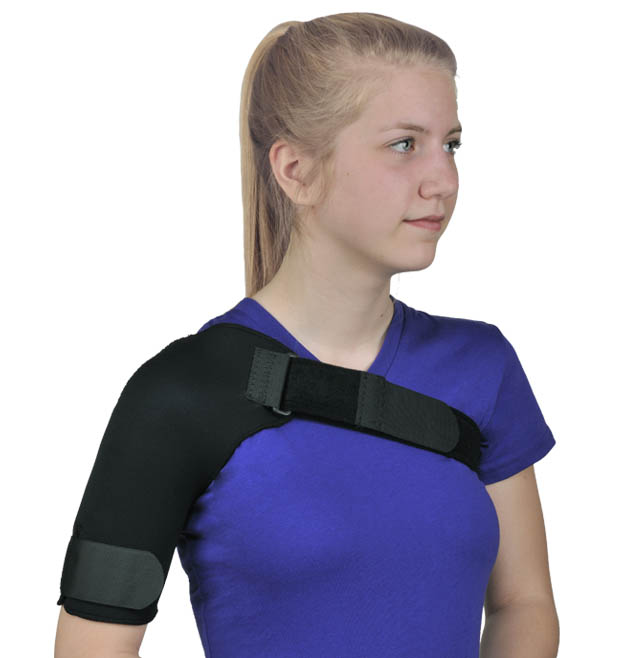 Shoulder Stabilizer
Similar to the 537, this Coolcel version uses a cooler, breathable material which extends further down the torso. The velcro closure is at the centre on the front of the brace and the bicep is fully adjustable for each patient. Two web/Velcro straps are included that can attach anywhere on the outside of the brace to limit shoulder motion in any desired direction. It includes a pocket on the shoulder to allow a hot/cold pack to be placed inside (hot/cold pack not included). Specify left or right.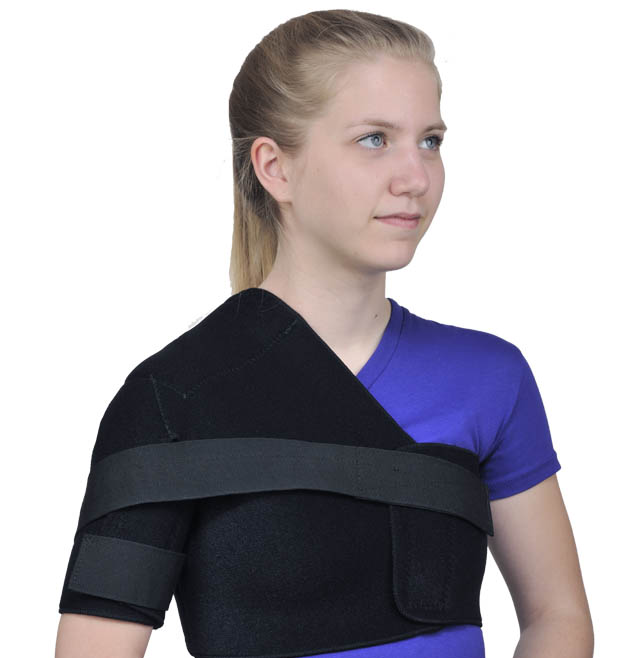 Figure 8 Clavicle Support
This brace is designed to immobilize and position the shoulder after a clavicle fracture. It limits forward rotation of the shoulders, eliminating stress on the clavicle during the healing process. Cotton webbing shoulder straps with foam padding in a figure-8 configuration. Shoulder strap tension for shoulder retraction is adjustable via a posterior buckle and Velcro strap system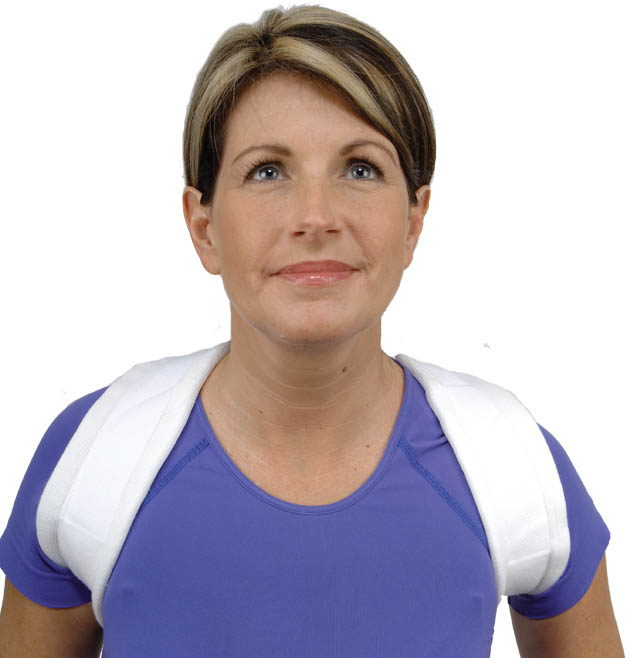 Posture Back support
Elastic shoulder straps connect to a soft cotton flannel back. The front Velcro closure allows easy self application. Lightweight and discreet under clothing. Retracts shoulders bilaterally. Provides support to clavicle and shoulders. Indicated for shoulder weakness, poor posture, clavicle injury rehabilitation. Does not have stays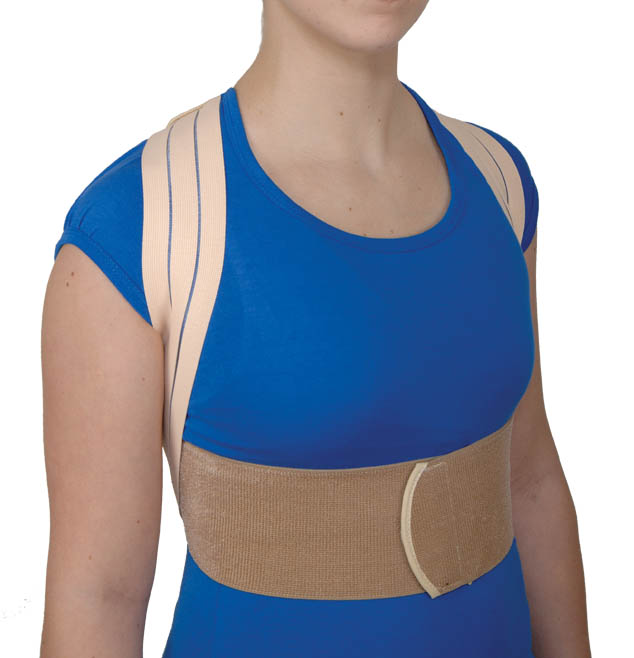 Abdominal Binder
The abdominal binder is designed to provide compression and support to the abdominal region after surgery. Its durable design also makes it ideal for long-term use with pendulous abdomens associated with obesity. The 6007 is 9" high and the 6009 is 12" high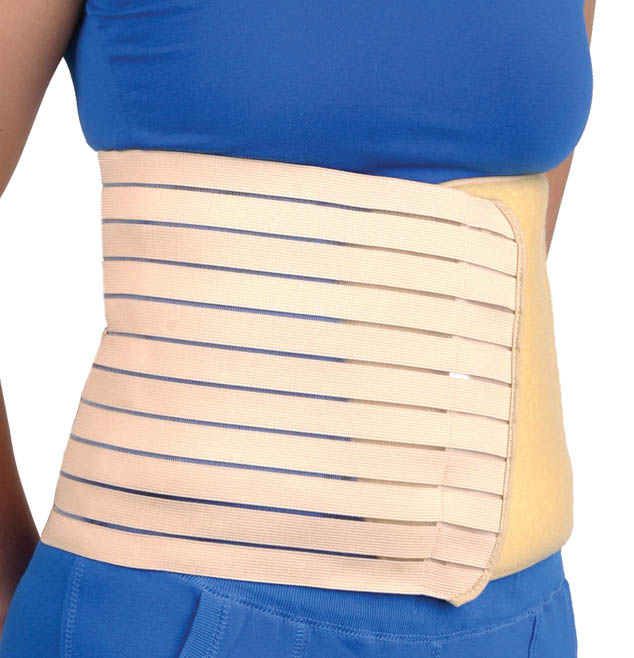 Maternity Support
The 8" plushback elastic pregnancy belt helps support the lower abdomen and back, offering relief from discomfort. The duo-adjustable, elastic side tension straps provide additional support, as does the optional moldable insert. Use only under supervision and prescription of health care provider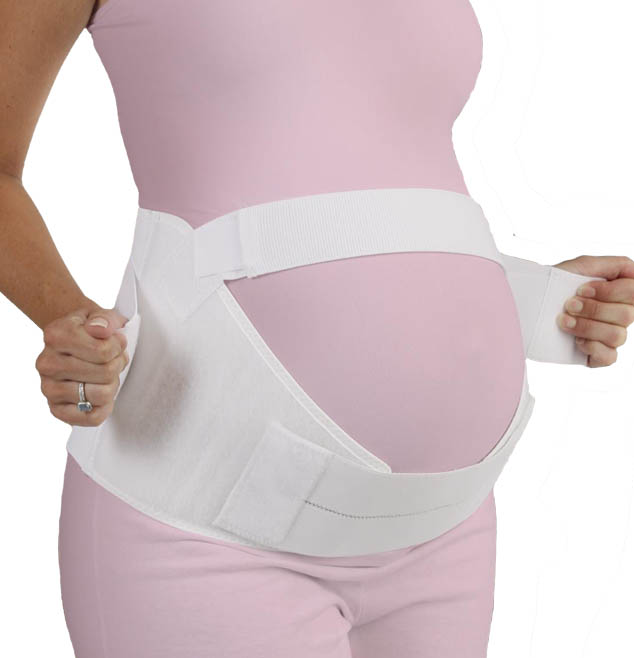 SI Belt
The Sacro-Iliac Strap is designed to provide compression and stability to the sacro-iliac joints in a comfortable, low profile design. Multiple levels of compression allow for easy adjustability according to patient needs. This 3" wide strap features a removable sacral pad for additional comfort and localized support, duo adjustable elastic straps for comfortable adjustment of focused support for the sacro-illiac joint, and strategically placed anti-migration pads to maintain the correct brace position.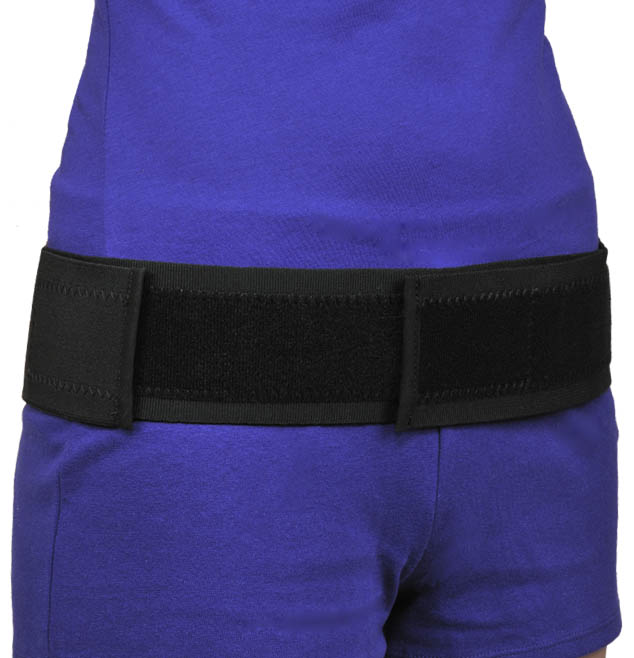 Hip and Groin
Hernia Support
This hernia support provides firm support and comfort, and fits under clothing.
The elastic strap is 2 inches wide
The flexible front panel fits body contours and the leg straps are made of soft, knitted elastic
Has right and left molded pads for support. Pads are removable for single sided use and attach with Velcro.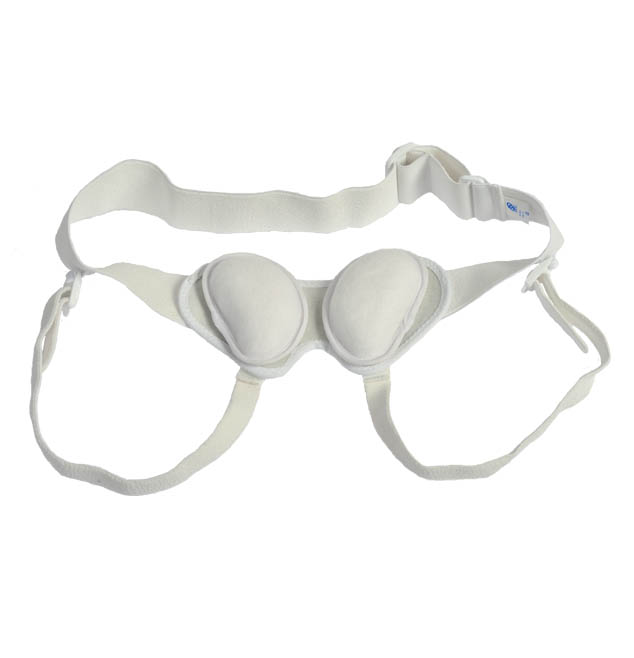 Pelvic Compression Shorts
Ortho Active's Pelvic Compression Shorts are considered by many athletic trainers to be the gold standard in the industry. Worn by professional athletes from the NHL to NFL, this dynamic compression system is designed to specifically address inflammation to the Sacro-Iliac and Pubic Symphysis joints. The system provides pelvic joint immobilization and heat retention to the affected area with minimum impairment to athletic performance. Neoprene and non elastic materials are kept to a minimum of the surface area on the shorts to eliminate unnecessary restrictions in range of motion and reduce contact dermatitis. As a result, pain reduction is maximized with minimal restrictions to athletic performance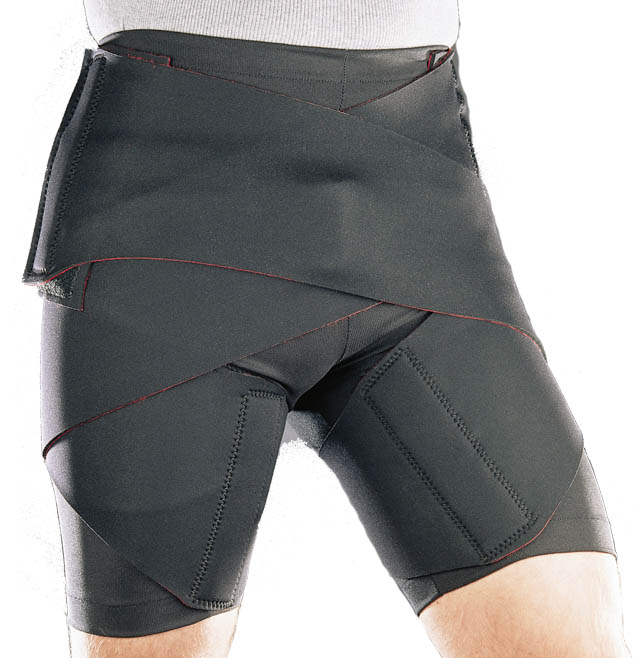 Thigh Wrap
This thigh wrap has a wrap-around design which is fully adjustable with a Velcro closure. It supports and stabilizes torn or pulled thigh muscles and ligamentous attachments, and can also be used as an abrasion protector for baseball players when sliding into base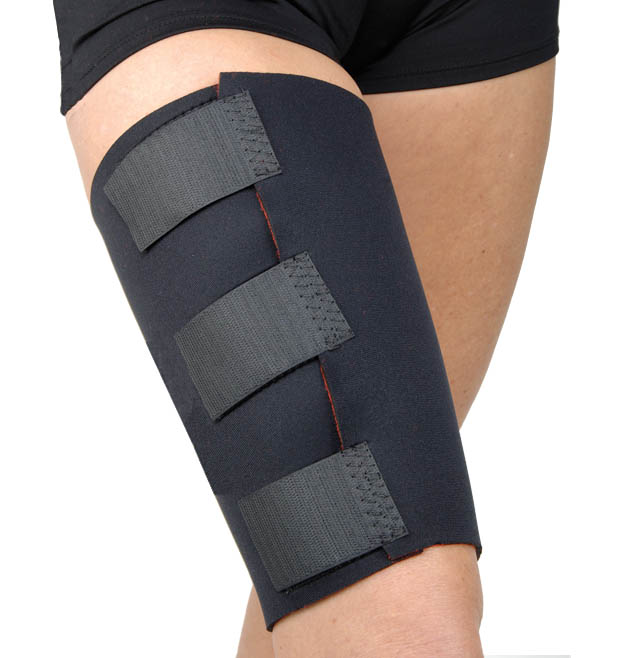 Knee
Infrapatellar Strap
The Infrapatellar Strap is designed to provide pain relief by increasing tension placed on the infrapatellar tendon, stabilizing the patella by reducing slack in the patellar tendon.
Available in Neoprene
Features a rubber tube buttress to concentrate corrective force
Easy to apply and adjust tension with Velcro closure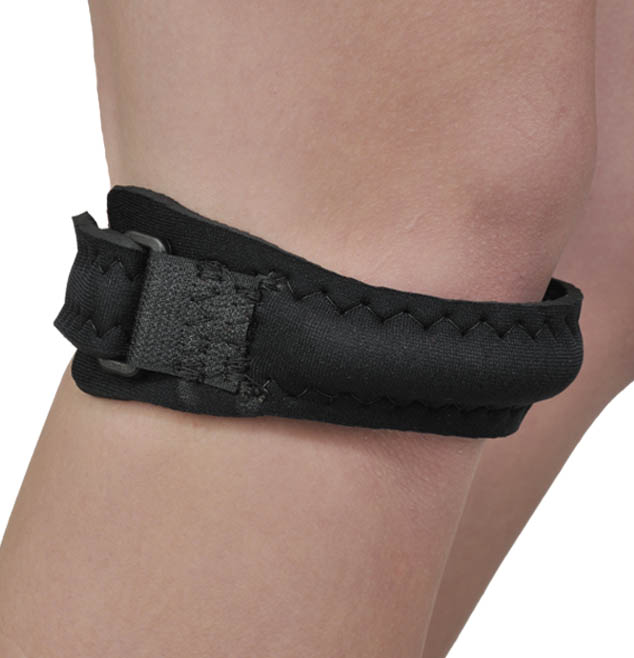 Patellar Tracking Brace
This stabilized Neoprene knee support prevents patellar tracking.
High grip sharkskin liner grabs the patella and provides a superior pressure
Medial and lateral stabilizers prevent rolling
Wrap around application allows for changes in leg size and variable compression. May be used universally to provide medial or lateral pull on either leg.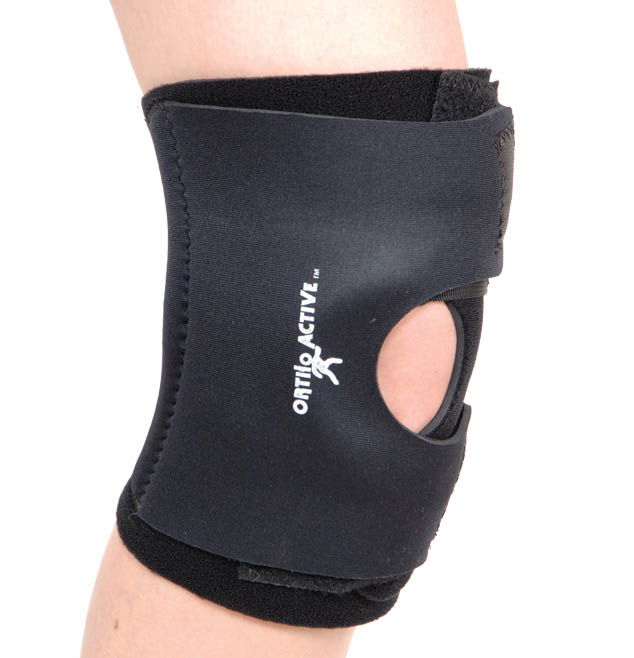 Jumpers Knee Brace
The Ortho Active Jumper's Knee Brace is designed to provide compression, warmth, and support to the knee.
Inferior and superior straps reduce tension on the patellar tendons, thus reducing the pain associated with repetitive loading of the knee joint
Removable patellar buttress assist in patellar tracking
Spiral stays prevent rolling and give medial/lateral support
Available in Neoprene or Coolcel, Ortho Active's lightweight, latex-free Neoprene alternative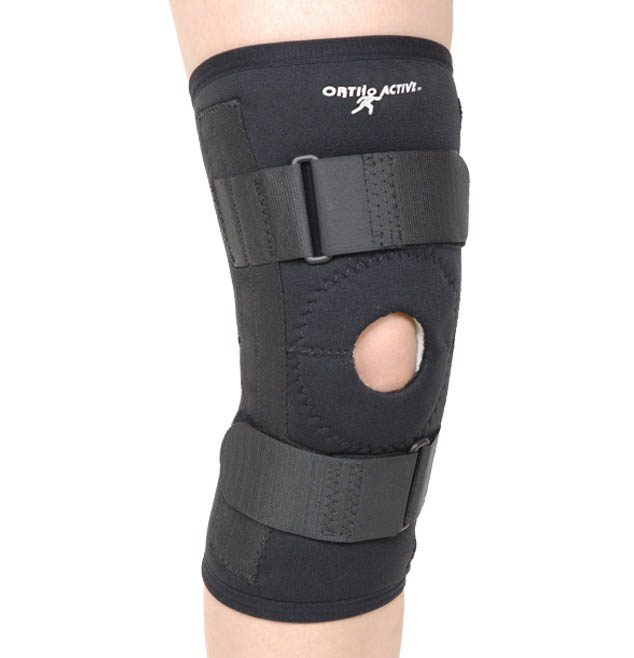 Elastic Knee Support
The Elastic Knee Support is designed to provide warmth and mild support and compression to the knee. Features a four-way elastic design for easy knee movement. Constructed of breathable and seamless elastic fabric.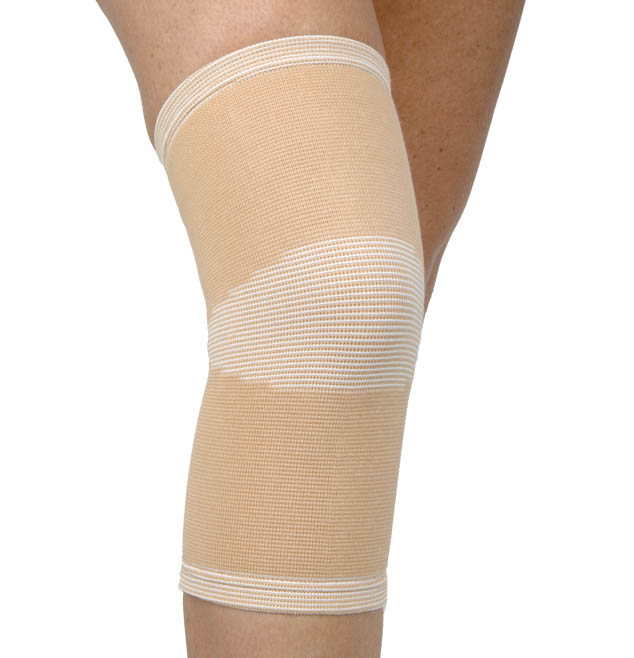 Ankle
Swede-O Ankle Lok
Triple layer, woven vinyl-laminate support featuring "Ankle Lok" offset flap, which tightly pulls the ankle into a stable position and secures it when laced
U-Shaped, internal stainless, steel spiral stays provide extra support and minimize the chance of re-injury
Removable plastic stabilizers can be slid into retention tabs to give maximum support to the ankle
Available in white or black.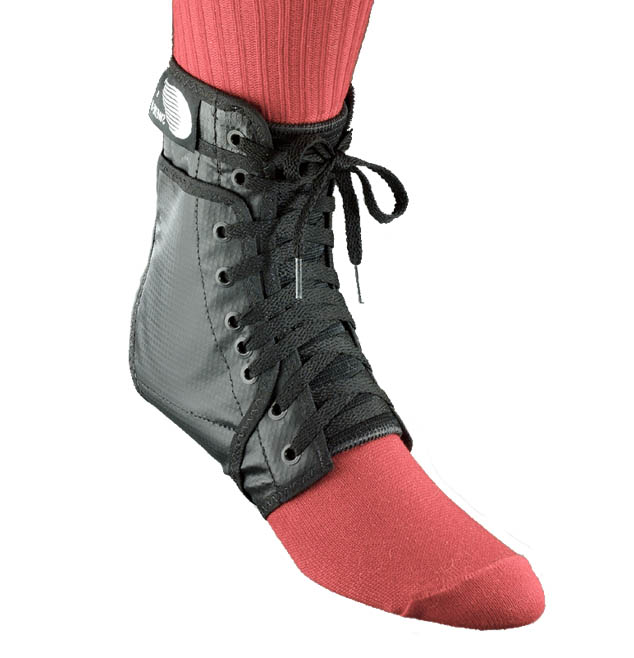 Active Ankle Trainer
The TII is a sleek brace that offers maximum performance and protection. The TII features feather-light E.V.A. padding that hugs every contour of the ankle and a durable, quick-fitting single strap system that is adjustable for both high and low-top shoes.
Also provides medial/lateral support and compression to the ankle joint
Features a lifetime warranty on the rigid parts of the brace and a 90 day warranty on straps and pads
Indications
1st or 2nd degree ankle sprains
Chronic or recurrent problems as well as instabilities in the ankle
Ideal for ankle protection while playing basketball, football, or volleyball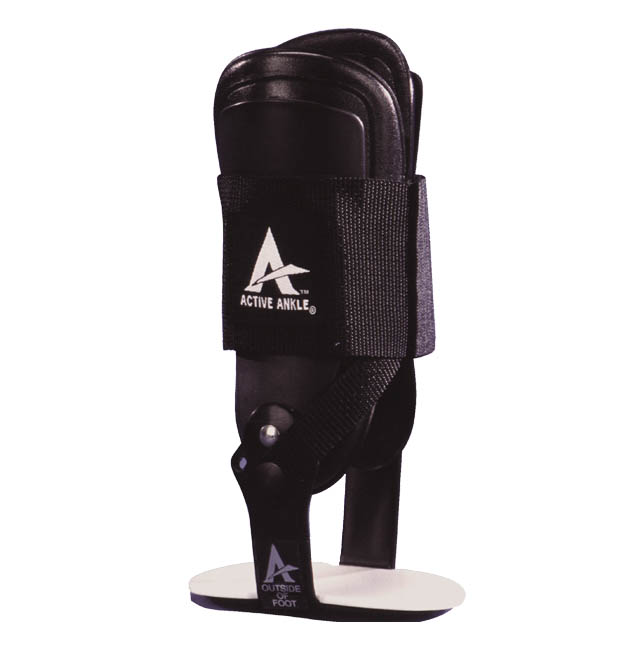 Double Strap Ankle Support
Beige Spandex double-strap support that provides ankle/arch support
Eliminates bulk and reduces tape use and training room time
The double strap offers compression to the medial and lateral sides of the ankle
Soft segmented plushback Velcro strap gives uniform compression and tension and allows breathability
For use on sound ankle or on a previous injury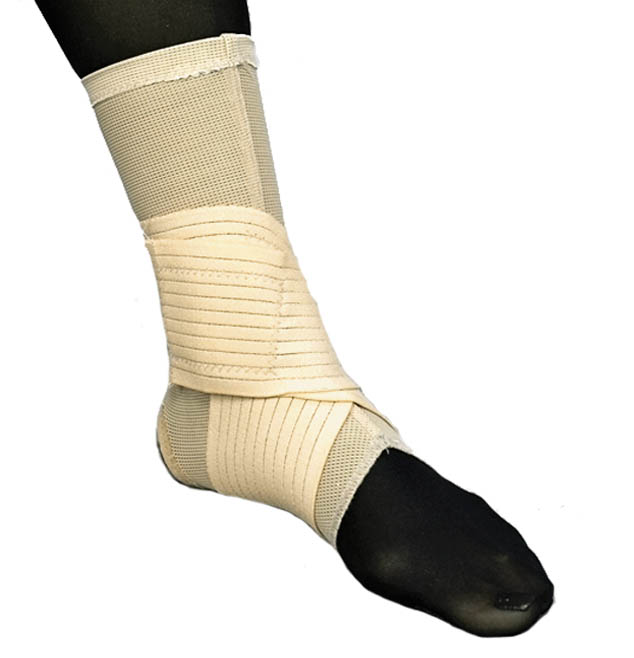 Figure 8 Ankle Support
Pull-on ankle support featuring a figure 8 strap, non-migrating suspension system. Used when compression and warmth are required to reduce swelling after injury. Body-Flex is a breathable, water resistant material. "Thin as skin" design reduces bulk and weight, and gives greater durability
and compression.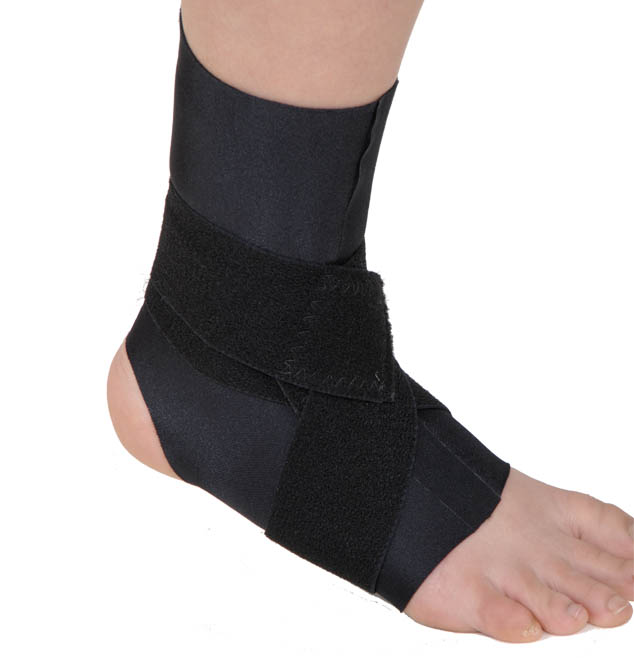 Equalizer Air Walking Boot
Similar to the 558 Walking Boot but with a patented pneumatic system that increases stability while decreasing pain and swelling. Air is easily adjusted to achieve desired compression and custom fit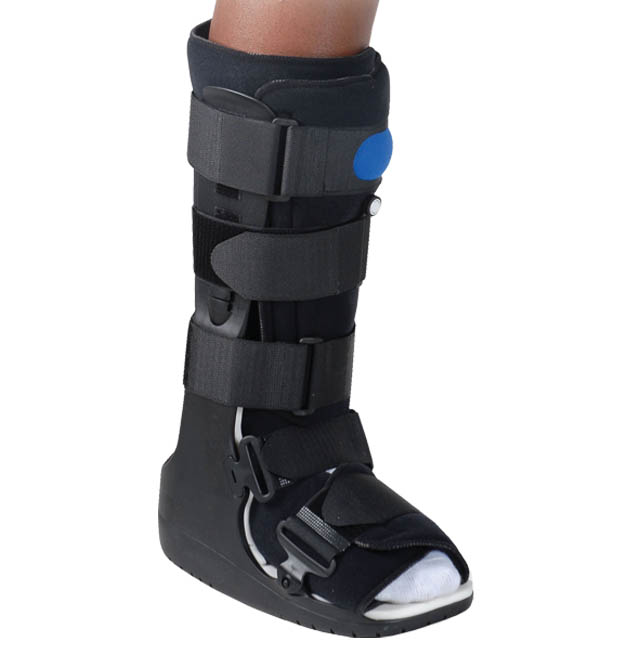 Foot
Easy Walk Flex AFO
Produced by combing carbon fibre with composite materials, making it cost efficient.
Comparison tests have confirmed that the product keeps the functionality and comfort level of the pure carbon fibre version, with the exception a of slight difference in weight
Carbon fibre produces a "spring" effect which facilitates walking to a great extent
Orthosis is barely visible under clothing
Has a 120 kg weight limit
This AFO is prefabricated and requires individual adjustment. It can be fitted by either grinding or simply cutting the sole with scissors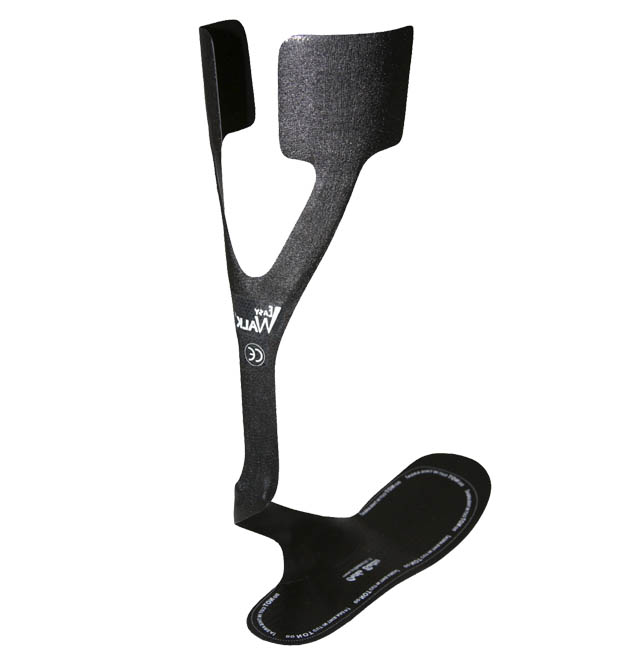 Swedish AFO
Effective for patients suffering from a variety of foot ailments, providing static dorsiflexion assistance and lateral stability for the entire foot/ankle area.
Quick, efficient trimming to size with scissors, eliminating the need for a heat gun
The low arch and open heel give a streamlined profile that fits easily into any shoe
Injection molded polyethylene allows for different thicknesses throughout the orthosis – thicker on the vertical aspect for rigidity and a thinner footplate for trimmability
Padding is provided on the calf section for extra comfort and a Velcro ankle strap secures the Swedish AFO around the ankle
The orthosis' height is 11"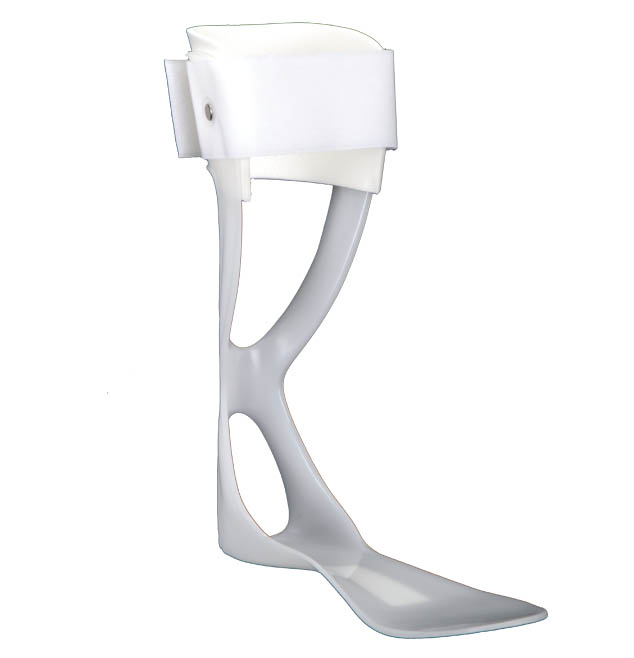 Active Toe Lift
The Ortho Active Toe Lift helps provide toe clearance during walking when ankle stability is not a problem.
A low profile plastic attachment as well as a metal attachment for shoes with narrow eyelet spacing are provided with this support
A slipper attachment is also provided for wearing in the house without shoes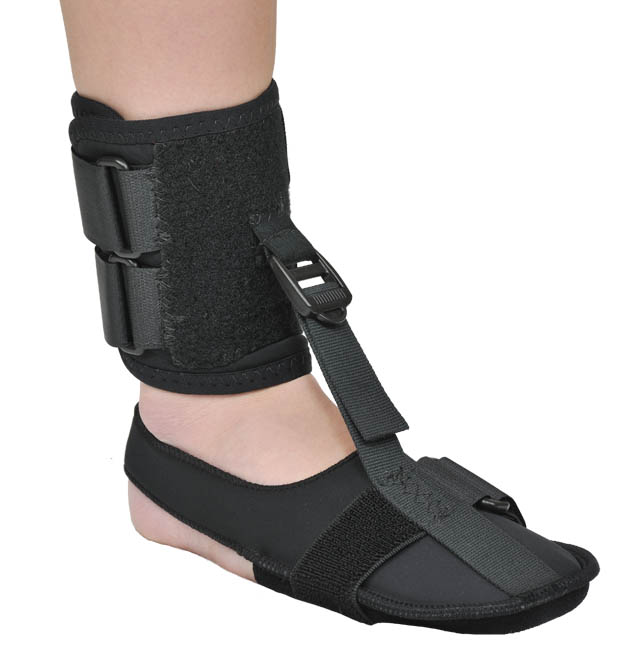 Sole Stretch
The Ortho Active Sole Stretch provides targeted stretching to alleviate plantar fasciitis during a low load prolonged stretch. The amount of stretch for both the ankle and metatarsal joints is independently adjustable to suit each person's needs. The soft design provides additional comfort while at rest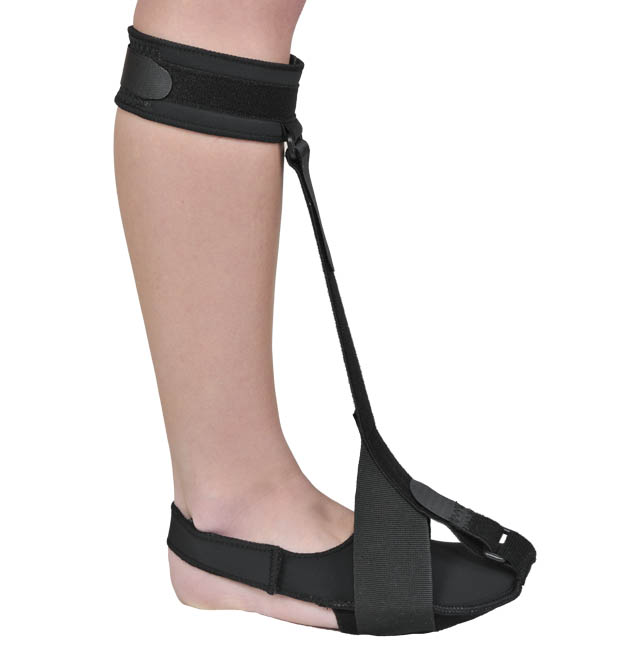 Plantar Fascitis Night Splint
Plastic night splint with adjustable dorsiflexion angle, posterior cutouts for breathability and comfort, and non-skid rubber sole material. Provides a low-load prolonged stretch to the plantar fascia and achilles tendon.
Removable, washable, breathable, 1/2" thick foam liner with soft Velcro-sensitive liner cover
Removable toe elevation pad
padded shin and ankle straps with quick release buckles.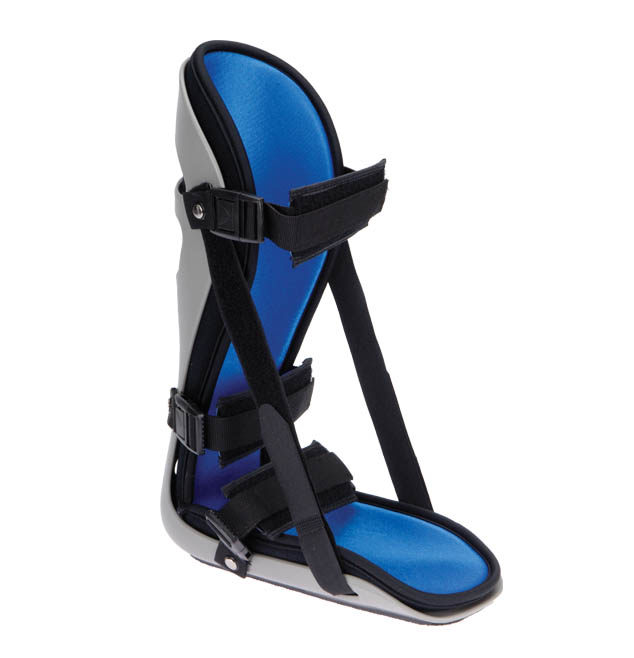 Hammer Toe Splint
Made from high grip perforated Neoprene to hold the toe securely with maximum comfort. Flexible boning provides support and straightening of the toe while still allowing for normal gait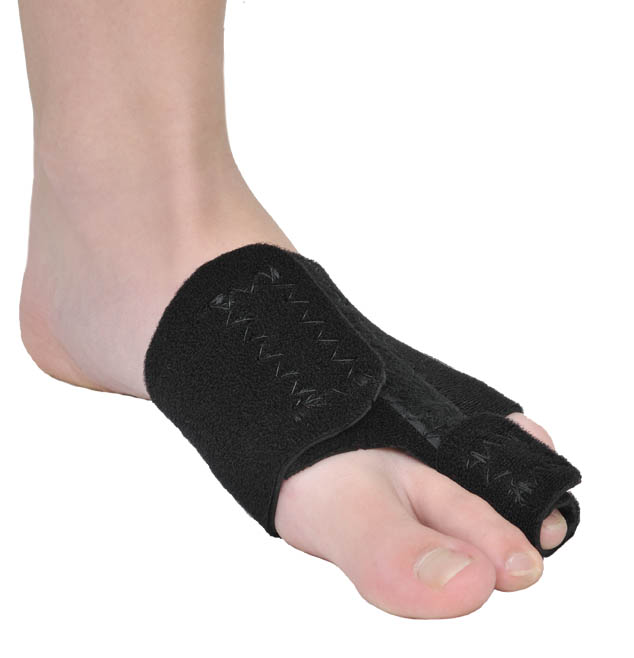 Hallux Valgus Splint
The 180 is a soft, comfortable daytime Hallux Valgus support that can be worn in the shoe. Made of high grip elastic neoprene, this support will provide a gentle stretch all day and night for the big toe in the valgus position.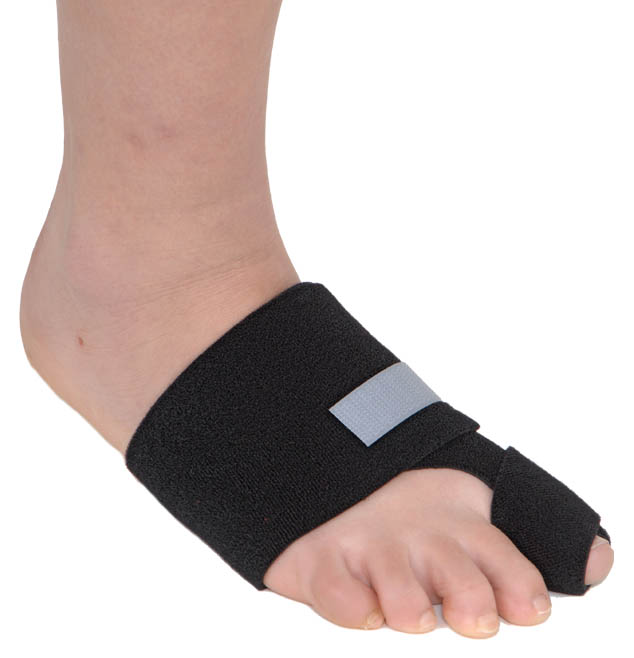 Hot and Cold Therapy
Theratherm Moist Heating Pad
The TheraTherm Digital Moist Heating Pad provides temporary relief from pain associated with muscle spasm and inflammation. Safe and Easy to use, TheraTherm Heating Pads unlike all other heating pad products on the market have a digital hand control for treatment temperature, treatment time and on/off.
Theratherm Digital Moist Heating Pad features
•Draws moisture from the humidity in the air to provide effective deep moist heat
•Easy to use Digital hand control allows user to program and monitor heating pad temperature and treatment time with the touch of a button
•Competitive units including Thermophore, require the operator to make continual contact with a single-loaded switch to generate and maintain heat from the pad
•Theratherm allows user to relax and enjoy heating pad therapy without the hassle of clenching a hand held switch
•Lockout mode protects against inconsistent setting changes throughout heating pad treatment
•Therapeutic Heating Pad treatment temperature is between 88 and 166 degrees F.
•Treatment time is from 1 to 60 minutes
•Specially designed 100% cotton flannel heating pad cover
Cold rush coolers
Aircast Cold Rush Cooler
Start feeling better with this Aircast IC cooler so you can get back to doing what you love
This cold therapy unit is clinically proven to help reduce post-operative swelling and regain range of motion
The Cryo Cuff IC provides both gravity and motorized cold and compression therapy for flexibility of care
Cooler holds water and ice and uses gravity to pump cold water into the cuff. No more messing with ice packs that don't hold their temperature
Design details such as a whisper quiet motor, an insulated cuff, and quick pad disconnect make the Cryo/Cuff IC flexible, durable, and mobile
Ossur Cold Rush Cooler
Cold Rush's holistic design features a durable motor, a stronger flow rate than the top selling units and an industry-leading iceto- water ratio that ensures longer cooling times. Yet, it is whisperquiet and compact, weighing just 4.6 lbs (2.1 kilograms).
Go with the flow. By incorporating the same durable motor used in much larger mobile air conditioners and refrigerators, Cold Rush provides consistent cooling and excellent compression, even to high elevations. Quiet as a whisper. Cold Rush uses a brushless motor to produce a whisper-quiet (30 decibel) unit that allows patients to get the rest they need to properly rehabilitate from their injuries. Stay cooler, longer! The highest ice-to-water ratio in the industry and a design that produces less heat transfer from the motor to the water combine to ensure cold therapy pain relief for up to 6 continuous hours. No igloos! Far more than just a modified beverage cooler, Cold Rush was designed holistically, with unique features like a locking lid to help prevent spills and insulated walls for improved cooling.
For cold therapy pain relief, as needed
Respiratory Therapy Products
Oxygen concentrators
Simpily Go Portable Concentrator
Simplify your life with the SimplyGo Portable Oxygen Concentrator from Philips Respironics.  The SimplyGo is the only portable oxygen concentrator that offers a continuous flow mode, a pulse dose delivery mode, and a sleep mode, in a device weighing just 9.5 pounds. The SimplyGo POC can deliver up to 2 liters per minute of continuous flow oxygen therapy or up to 6 liters per minute of pulse dose oxygen.  This means that SimplyGo oxygen concentrator is powerful enough to serve as a stationary home oxygen concentrator and meet the portable oxygen needs of nearly all oxygen therapy users.
Click Here To See More Info
Drive Devilbiss oxygen Concentrator
Built upon the reliable features of the 525 concentrator, the 1025 Oxygen Concentrator is designed to provide optimal oxygen delivery for patients with varying flow requirements
Assembled in the USA and built in the same shell as the 5 Liter, the 10 Liter Concentrator is also compatible with cylinder transfill systems
Sold separately, the Transfill Caddy is designed with a steel frame to simply connect the 18 x 14 inch shelf, designed to support up to 40 lbs., to the DeVilbiss 10L Concentrator
Front view , Rear View
With a weight of 42 lbs. and an identical footprint to the 525 unit, the 1025 is substantially smaller and lighter than competitive 10 Liter concentrators
Capable of delivering 87% to 96% of O2 purity from 2 to 10 LPM, the 10 Liter Concentrator is an ideal investment for your patients and business alike
Exclusive DeVilbiss OSD® (Oxygen Sensing Device), standard on every unit, monitors the oxygen produced and ensures patient safety and reliability for longer service intervals
Equipped with accessible patient controls, bright LEDs that can be seen from a distance, protected cannula fitting and recessed humidifier nook to prevent damage

Nasal cannulas                                                                                     
Foot Care
Compression Stockings
Pain Relief          
Pain Relief Now                                   
Using a pharmaceutical grade delivery system, PRN Pain Relief Now is able to penetrate through the skin and into the tissues and joints where it is needed to provide quick relief. This formual was developed and tested by pharmacists and has no known interactions with prescription or herbal medications. PRN Pain Relief Now was tested on real people with real pain. Many pain sufferers find they are able to reduce or eliminate the amount of OTC and prescription pain killers they are taking once they start using Pain Relief Now.
Available in a spray or roll-on.
Motion Medicine
Product Benefits:
Start feeling better with this Motion Medicine muscle cream so you can get back to doing the things you love
This topical analgesic cream used to ease pain and improve movement so you can get a pain relief
Motion Medicine contains components clinically proven to reduce pain and aid tissue repair for the faster healing process
It is a great alternative for Traumeel cream
Product Details:
This pain relief cream comes in a tube (120g), jar (500g)
Pump lid for the 500g jar can be purchased separately
Motion Medicine is a blend of all natural ingredients: glucosamine sulfate, chondroitin sulphate, oil of wintergreen, thymol
Menthol, eucalyptus leaf oil, camphor, grape seed oil, lavender essential oil, MSM, sea cucumber, vitamin E.
Highly effective pain relief topical remedy
Treatment / Prevention of the following Injuries:
Muscle pain relief
Arthritis
Joint and muscle stiffness
Backache
Bruising type injuries
CryoDerm
CryoDerm Pain Relieving Cryotherapy combines natures' ancient wisdom with today's science.
It's as cold as ice! Fast acting, deep penetrating, long lasting pain relief from: arthritis, bursitis, tendonitis, painful elbow, wrist, hip, knee and ankle joints; back, shoulder and neck pain; muscle strains, sprains and spasms, sore muscles & muscle cramps; foot, heel and ankle pain, leg cramps; neuromas, diabetic neuropathy and plantar fasciitis. Contains Essential OIls and other natural ingredients such as: Arnica, Boswellia, Eucalyptus, Ilex, Menthol, MSM, and Peppermint OIl.
Weighted Blankets
Description
It's believed that those with Sensory issues, Autism, Aspergers, ADHD, Restless Leg Syndrome, and many other conditions, can be calmed and sleep more deeply and restful, with a little extra weight resting on them. Children focus better and can sit more quietly during class or meal time with a simple weighted lap pad to help anchor themselves. It's a gentle calming device. These are not meant for children under 2 years of age. As with any medical device, check with your Doctor before use.
Your blanket is constructed to the size & weight you need. It is recommended that you use 10% of body weight plus one pound. Please check with your therapist or doctor. We take No liability on the use of the blanket, We guarantee our work; the construction of the blanket.
These blankets are for therapeutic use. Never place a weighted blanket on an infant.
Colors available Solid colors : Orange, Red, Pink Lime, Green, Hunter green, Light blue, Royal Blue, Aqua, Navy, Lavender, Purple Grey, Charcoal, Black White, Ivory, Coral
This weighted blanket can be constructed of cotton, flannel, fleece or Mink dot for a super soft experience for you or your little one.
Care Instructions: Blanket are machine washable (at home) for blankets 12 lbs & under; can be tumble dried on low heat. For blankets over 12 -15 lbs it is recommended that you use a commercial washing machine (laundromat) and hang to dry (hang over a chair or railing).
We only use quality, non-toxic poly pellets for weight.
Please contact us today for pricing and availability!